Make Your Pavement Look New
Sealcoating is both economical and aesthetic. Your parking lot will not only look new and complement the rest of your property and landscape, but it will also increase your asphalt longevity.
Seal your blacktop to protect it from being damaged by the elements or oil based spills. The most cost-effective way to protect your pavement investment is by crack filling and sealcoating.
.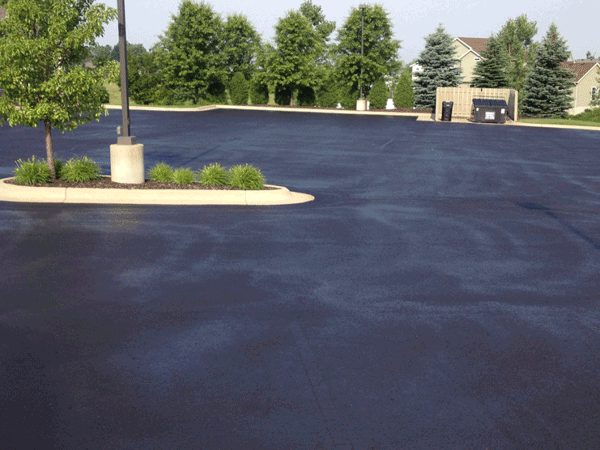 Making Your Paved Surface Look New Again
When it comes to your pavement, the best defense is a good offense. Ensuring your pavement is maintained and repaired on an ongoing basis is the best way to prevent costly pavement replacement later. 
Sealcoating not only ensures that your parking lot looks fresh and new, it ensures that your pavement is protected from damage from UV rays, rainwater intrusion, snow, ice, debris, and oil based spills. 
At ACS Sweeping, our sealcoating experts take great pride in ensuring that your parking lot is maintained to the highest possible standard. 
Our collective expertise in professional pavement maintenance is one of our biggest competitive advantages. Delivering pro services since 1998.
"Regular Sealcoating Ensures Your Pavement Looks Sharp."
At ACS Sweeping, we know you may have questions. Our industry experts will put you at ease with their skill and knowledge as they evaluate your paved surfaces.  Once a comprehensive sweeping plan is proposed and agreed upon, the skilled operators at ACS Sweeping can begin to work delivering results. 
Evaluate Your Paved Surfaces
Our experts will evaluate your existing pavement and maintenance.
Our experts will prepare solutions that are customized to your specific needs
Perform Regularly Scheduled Services
Our operators will execute your scheduled services with state-of-the-art equipment.
we are part of your community. all the way through.
At ACS Sweeping, we take our commitment to being a positive part of our local community very seriously.
We Are More Than Just Sweeping
our professional services Include:
At ACS Sweeping, we are more than just a parking lot company, We also offer sweeping services to ensure your paved surfaces are kept at their best.